Freight transportation by sea
Freight transportation by sea
Freight transportation by sea
Freight transportation by sea – the most common type of transportation. Thousands of importers and exporters prefer this mode of transport because of its cost-effectiveness, security, and 24-hour movement of cargo.
Freight transportation by sea is recommended when the delivery time does not play an important role, especially important minimal costs of transportation and if the cargo is extremely heavy and large.
The freight forwarding by the sea services provided by the MTL Group are one of the best choices when shipping cargo from one part of the world to another. Our work includes individual analysis of customer's needs, careful and expeditious route planning, preparation of the documents, cargo security, forming, solving various issues during the shipment and timely delivery.
MTL GROUP cooperates with reliable partners and provides full container and partial cargo transportation services.
Reliable containers prevent cargoes from any possible damages and allow to safely transport the load. According to the individual cargo's amount and dimensions, certain size of containers are selected.
Below are the dimensions of the most popular marine containers. Containers for individual shipping lines may vary slightly, so if every millimeter is important to you it is advisable to provide accurate cargo measurements before shipping.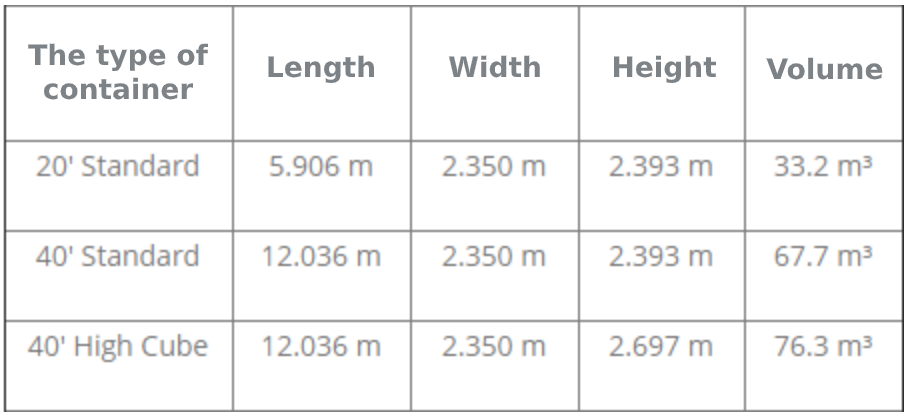 Often when transporting cargo by the sea to the "doors" there is a need to use other types of transportation. In such need, MTL GROUP organizes multimodal transportation (cargo transportation by using several types of transport) and according to the needs, combines several types of transportations (sea, air, rail or road transport). This allows to effectively control the whole process of the shipment, ensure the most optimal delivery time, maximum safety and to lower the freight's costs.